What is Medication Assisted Treatment?
Medication-Assisted Treatment (MAT) is the use of medications, in combination with counseling and behavioral therapies, to provide a "whole-patient" approach to the treatment of substance use disorders. Research shows that a combination of medication and therapy can successfully treat these disorders, and for some people struggling with addiction, MAT can help sustain recovery.
---
How can living in a recovery home help me?
"Who we spend our time with, where we go, and the things we surround ourselves with all impact who we are and the decisions that we make. Many times, people in early recovery have to give up everything they've known… because those people, places, and things put them at risk for relapse or continued use. Early recovery can be painful and isolating. Recovery housing can fill that void with a safe place, compassionate people, and a life full of purpose and fun that doesn't involve alcohol or drugs."
---
What makes Alpha Recovery Homes different?
Alpha Recovery Homes believes that it is never too late to start a new life. With that being said the owner / operators of Alpha Recovery Homes are both men in long term recovery and also are both certified Peer Recovery Coaches and Mentors in the State of Michigan. We not only bring real life recovery experience from our own personal stories but we also bring state certified training to all our participants. We believe in planting a seed of hope and to be there to guide and encourage.
---
NARR defines recovery residence as a "sober, safe, and healthy living environment that promotes recovery from alcohol and other drug use and associated problems." A good recovery residence provides a community-based environment to initiate and sustain recovery – defined as abstinence from alcohol and other non-prescribed drug use, and improvement in one's physical, mental, spiritual and social wellbeing.
---
Multiple Avenues of Recovery?
Recovery is a process of change through which people improve their health and wellness, live self-directed lives, and strive to reach their full potential. There are four major dimensions that support recovery:
Health—overcoming or managing one's disease(s) or symptoms and making informed, healthy choices that support physical and emotional well-being.
Home—having a stable and safe place to live.
Purpose—conducting meaningful daily activities and having the independence, income, and resources to participate in society.
Community—having relationships and social networks that provide support, friendship, love, and hope.
At Alpha Recovery Homes we understand that what might work for us might not work for you, so we strive to keep an open mind to all avenues of recovery and help support and guide you on this life long journey.
---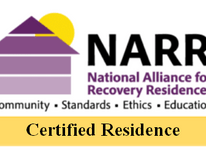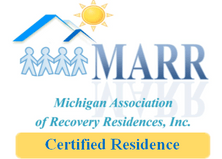 Take Another Step in Your Journey
Privacy & Policy
The relationship between a Alpha Recovery Homes LLC and each participant is protected by law. Information can't be disclosed without written consent.
22172 Lambrecht
Eastpointe, MI 48021
21719 Normandy Eastpointe, MI 48021
Hazel Park, Oakland County Coming October 2023
Peer Support

Weekly House Meeting

MARA Meeting

Personal Transitional Coordinator thru our proud partnership with the Sober Support Coalition

Structured Living

Near 9 Mile and Gratiot Avenue

Medicine Lock Box

Water

Gas

Electricity

Television

Multiple Refrigerators

Washer and Dryer

Fully remodeled Homes

Exercise Equipment - Lambrecht Home

In house pet dog - Lambrecht Home
Alpha Recovery Homes owners are both in long term recovery and are both Certified Peer Recovery Mentors and Coaches, bringing not only real life recovery experience, but also state certified training.
Rates
$200 per week for Oakland County Homes
$160 per week for Macomb County Homes
Payment
Cash,Cash App, Check, Money Orders, are accepted for payment.
FAN Scholarships are also available to those who
qualify. Apply at https://www.familiesagainstnarcotics.org/scholarships
WHAT MAKES ALPHA RECOVERY HOMES DIFFERENT:
Thru our partnership with the Sober Support Coalition we have our own
personal licensed Transistional Coordinator who helps our clients with anything they need to help get their lives and recovery on the right track for no cost to them.
MARR (Michigan Association Recovery Residences) Certified Homes, which are held to a higher standard
www.sobersupportcoaltion.org